Canes/Crutches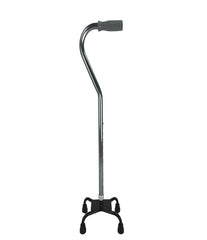 An assistive cane is a walking stick used as a crutch or mobility aid. Canes can help redistribute weight from a lower leg that is weak or painful, improve stability by increasing the base of support.
A crutch is a mobility aid that transfers weight from the legs to the upper body. It is often used by people who cannot use their legs to support their weight, for reasons ranging from short-term injuries to lifelong disabilities.
T-Shape Cane – Made of light weight aluminum Rubber tip for anti-slip Pushbutton adjustability S...
Foldable Curved Cane – Champion is made of light weight aluminum Folds for easy storage Rubber t...
Mobb Quad Cane Quad Cane – Made of light weight aluminum Self standing Quad tip base provides ex...