Hip Braces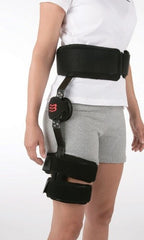 Hip braces are used to control hip flexion and extension as well as abduction, following hip surgery and hip injury.  Scott's Medical Supply provides a great selection of range of motion hip products and hip immobilizers for post-injury and post-surgery.
Scott's medical Supply provides pediatric hip products for hip dysplasia.
The Breg T Scope Hip Brace The Breg T Scope Post-Op Hip brace delivers a patient-centric design t...
Breg Cruiser Hip Abduction Splint The "Cruiser" Hip Abduction Splint is used for treating childre...
Breg Philippon PostOp Hip Brace Designed to allow controlled hip flexion in 15° increments from -...