Scooters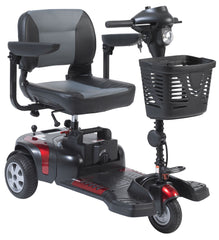 A mobility scooter is a mobility aid equivalent to a wheelchair but configured like a motorscooter. It is often referred to as a power-operated vehicle/scooter or electric scooter.

Electric mobility scooters are steered by handlebars and operated through controls located on the vehicle's tiller. This type of set up works well for an individual with enough upper body strength, arm reach and range of motion to manage the power scooter safely.
Drive Maverick Executive Scooter The ground-breaking, head-turning new Maverick from Drive Medica...
From
$4,795.95
$11,375.00
High visibility yellow material  aids in day time visibility Reflective X for night time visibil...
The Phoenix 4 Wheel Heavy Duty Scooter by Drive Medical provides users with indoor and outdoor in...