Wound Cleansers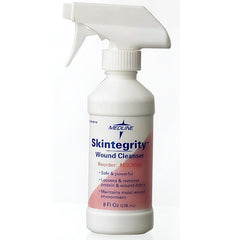 Wound Cleansers
Wound cleansers are solutions used to remove contaminants, foreign debris and exudate from the wound surface or to irrigate a deep cavity wound. Ingredients may include surfactants, wetting agents, moisturizers and/or antimicrobials. They may be a rinse or no-rinse formula.
Contact Scott's Medical for your wound cleanser needs.
Independence Medical Essentials™ Wound Cleanser Spray Bottle, 8 oz Non-toxic, ph-balanced, non-i...