CPAP Spray Cleaner, 8 oz.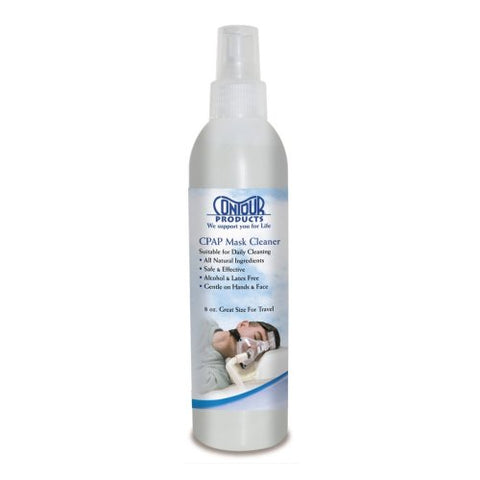 CPAP Spray Cleaner, 8 oz.
Description:
CPAP Spray Cleaner, 8 oz.
Contour CPAP Mask Cleaning Spray is a great everyday cleaner of CPAP and BiPAP masks and equipment. Contour Spray contains only natural ingredients, is gentle on your hands and face and it's super fast.
Contour CPAP Mask Spray Cleaner is specially formulated to naturally clean and protect your CPAP equipment without the use of harmful chemicals. Contour Spray effectively removes dirt, grease, oils and other organic residue from your masks and equipment, keeping them clean and fresh. The special 100% natural formula contains no unpleasant odors or strong fragrances.
Keep your mask clean the safe and easy way! Contour Spray is alcohol free, latex free, and biodegradable. It is designed to effectively clean ALL types of CPAP, BiPAP and Oxygen equipment (including masks, tubing, and accessories) without cracking or hardening. Each bottle contains 8oz of CPAP Mask Cleaning Spray -- perfect for home and travel!