HealthSmart Bubble Mist Cool Mist Ultrasonic Humidifier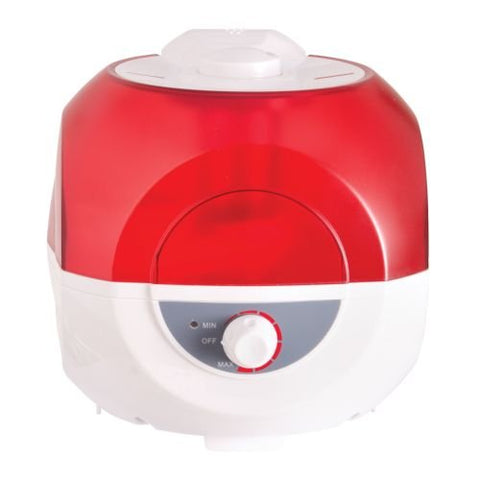 HealthSmart Bubble Mist Cool Mist Ultrasonic Humidifier
Description:
HealthSmart Bubble Mist Cool Mist Ultrasonic Humidifier
Cool, quiet mist. Safe ultrasonic cool mist technology means you do not have to monitor who touches it. Control the amount of mist with the 360 degree rotating mist nozzle and adjustable mist knob. It's whisper quiet and will not disturb or distract you while you sleep or work.
Filter free. You won't have to purchase costly filters or wicks or spend time replacing them.
English Spanish instruction manual.
The sleek, contemporary frame is 7.5 inch diameter (bottom) x 7.5 inch diameter (top) x 7.5 inches high, so it fits nicely into any space.
3 year limited warranty.

Features:
Sleek and Stylish. This vibrant red and white humidifier will add sleek style to your decor.
Relief for dry skin, throat irritation, coughs and congestion. The Bubble Mist humidifier will add much-needed moisture to the air on dry days, keeping your skin moisturized, helping you breathe easier and reducing static electricity. Don't let low levels of humidity slow you down.
Runs up to 24 hours! It has a large .66 gallon capacity, meaning you won't have to spend time refilling it.
Low water indicator. The low water indicator lets you know when it's time to refill and Bubble Mist shuts itself off when it runs out of water. No need to take time to monitor it. Refilling is a breeze with the convenient water tank carrying handle.
Cool, quiet mist. Safe ultrasonic cool mist technology means you do not have to monitor who touches it. Control the perfect amount of mist with the 360 degree rotating mist nozzle and adjustable mist knob. It's whisper quiet and will not disturb or distract you during your busy day or restful night. It also won't distract you while you work!
Red/White