VirtuClean CPAP Sanitizer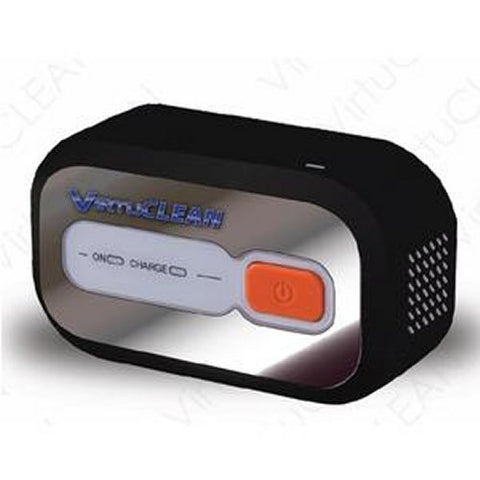 VirtuClean CPAP Sanitizer
Description:
VirtuClean CPAP Sanitizer
Clean and sanitize CPAP machine and mask with VirtuCLEAN CPAP and mask cleaner. Use Ozone, not water! In 30 minutes VirtuCLEAN kills 99% of bacteria.

It's possible to clean your CPAP mask, tube and machine without water, easily every day.  No more wipes, hose cleaners, and waiting for the equipment to dry.  The VirtuCLEAN CPAP Cleaner is designed to use Ozone or "activated oxygen" to kill 99% of mold, bacteria and virus germs on your CPAP or Bi-Level machine in only 30 minutes.  Every morning you simply connect your machine to the VirtuCLEAN and turn it on.  After 30 minutes do the same cleaning to your mask, tubing, water chamber, and all parts of your CPAP system for another 30 minutes. VirtuCLEAN is the winner of the 2017 MedTrade International Medical Equipment Show for "Best New Product."
Using VirtuCLEAN is an easy 2 step process!

Step 1: clean your mask and hose.  Step 2: clean your machine and humidifier.

For a non-heated hose: With mask attached, plug your hose into VirtuCLEAN and put the mask inside the VirtuCLEAN bag and zip the bag.

For a heated hose: detach your mask and plug the end of the hose that usually attaches to the mask into VirtuCLEAN, then put the mask and the other end of the hose (with the connectors) inside the bag and zip the bag.

Turn VirtuCLEAN on and wait 30 minutes. The machine will beep 5 times when the cleaning cycle is complete, and then turn itself off.

Take the mask and hose out of the bag.

If you have a humidifier, dump out any water.

Reconnect the hose to the humidifier (which is attached to the CPAP machine) or if you do not have a humidifier, reconnect the hose to the machine.  Turn on VirtuCLEAN and wait 30 minutes.

Note: VirtuCLEAN runs on either a battery or via a power cord plugged into an 120V outlet.  The battery is lithium ion and rechargeable, guaranteed for 10 years. It takes around 2 hours to charge the battery. Additionally there is absolutely no maintenance required for the VirtuCLEAN, no filters or other replacement parts.  The whole unit has a warranty good for 18 months.  


Take VirtuCLEAN CPAP and mask cleaner with you when you travel.
VirtuCLEAN has a small profile, measuring 4.75" L x 3.75" W x 2.12" H, making it extremely portable, especially with its rechargable lithium ion battery that should power 7 full cleaning cycles before requiring recharging.