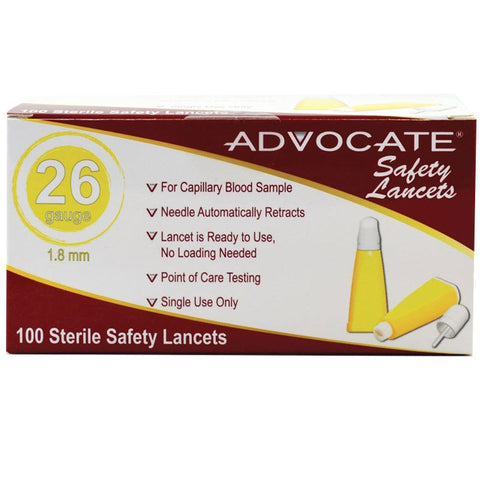 ADVOCATE Safety Lancets 26G x 1.8mm 100/bx
Description:
Advocate Safety Lancets
ADVOCATE Safety Lancets are single-use automatic lancing devices for capillary blood sampling and are an excellent alternative to the traditional lancing device. Simply twist off the top, press the end to the site. The spring-loaded needle automatically penetrates to the indicated depth and retracts for total safety. Available in various sizes/gauges and quantities.
Features:
Single Use, Automatic Lancing Device
Ready to Use / No Loading Needed
Controlled Depth and Penetration
Needle Automatically Retracts
For Capillary Blood Sampling
Excellent for Hard-to-Reach or Difficult Sampling Situations
Available in Many Sizes & Quantities
Package includes: (100) Sterile Safety Lancets
Safety Lancet Sizes Available:
21 gauge x 2.4mm, 200 ct/box
23 gauge x 2.2mm, 200 ct/box
26 gauge x 1.8mm, 100 ct/box
28 gauge x 1.8mm, 200 ct/box