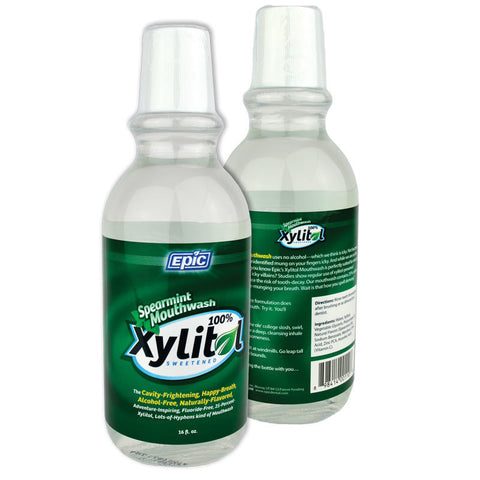 ADVOCATE Spearmint Xylitol Mouthwash - 16oz bottle
Description:
ADVOCATE XYLITOL MOUTHWASH / ORAL RINSE
Sugar-free and sweetened exclusively with about .75 grams of xylitol per serving, Epic's Spearmint Mouthwash provides the perfect fresh-me-up as part of your daily 6 grams of xylitol that dentists worldwide recommend to help stop tooth decay.
Yep. One rinse in the morning and another at night account for almost 25% of your cavity-fighting daily dose. We absolutely stand by our secretly-guarded Spearmint formula.
Our mouthwash contains 25% xyiltol and uses no sodium lauryl sulfate. It's great for rinsing away plaque and bacteria and does wonders for dry mouth. Try it.
Features:
Contains NO Alcohol
25% Xylitol
Natural Spearmint Flavor
0.75 grams of xylitol per serving
Ingredients:
Water, Xylitol, Glycerin, Polysorbate 20, Natural Flavors, Sodium Benzoate, Menthol, Citric Acid, Zinc PCA, Ascorbic Acid (Vitamin C).