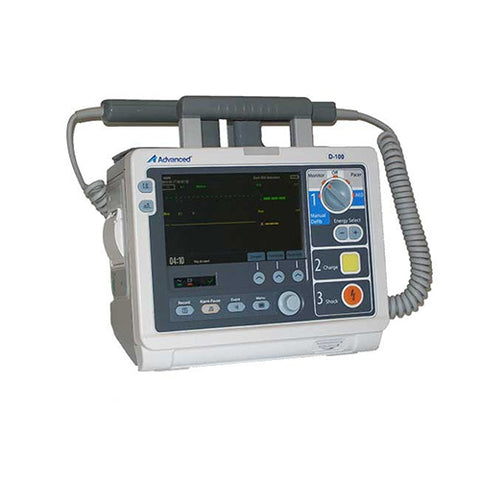 D-100 Defibrillator
Description:
D-100 Defibrillator
The Advanced® D-100 Defibrillator is a biphasic defibrillator with expanded functions that include Patient Monitoring, Manual Defibrillator, Automated External Defibrillator (AED) and Cardiac Pacer. The Advanced® D-100 Defibrillator is battery operated and compact, which make it suitable many clinical areas inside and outside the hospital.
Applications
The Advanced® D-100 Defibrillator can be used in Hospital, Clinics, Emergency Centers, Same Day Surgery Centers, Patient Transportation and other Healthcare Facilities.
Key Features


4-in-one integrated design: monitoring, Manual Defibrillator, AED and pacer.
7" TFT LCD color display.
Display shows numerical information and waveforms.
Comprehensive alarm system.
Lightweight and portable.
Up to 360J escalating dose energy to maximize defibrillation success.
Defibrillation with synchronized cardioversion.
AED with Biphasic technology.
Patient Monitoring: ECG, SpO2 and Respiratory Rate.
Adult and Pediatric external paddles, convertible.
Large internal memory capacity.
IP44 levels of dust and water resistance.
Meets 21.102, ISO 9919 for shock and vibration.
Meets 6.3.4.3, EN1789 free fall requirements.
Integrated thermal recorder.
USB port, data export capability.
Built-in rechargeable backup battery.
LED Battery level indicator .
Voltage 100V~240V - 50/60 Hz.