SURGE™ Heavy-Duty Liquid Drain Opener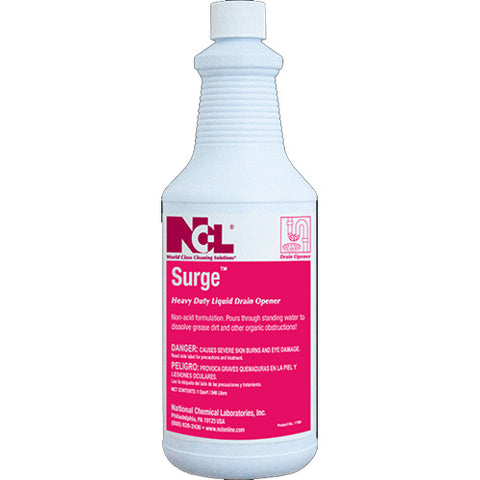 SURGE™ Heavy-Duty Liquid Drain Opener
Description:
SURGE™ Heavy-Duty Liquid Drain Opener
Description
A drain opener that deliveries high performance without the use of acid ingredients. Non-fuming, as well as safe on all plumbing fixtures, septic tanks, garbage disposals and porcelain. Pours through standing water to dissolve starches, fats, grease, hair, gums and other organic wastes.
---
Key Market Information
Education
From day care centers, through high schools, and even through colleges, drains will get clogged, but SURGE™ is your answer to clearing the drain lines before the problem gets out of hand.
Retail
A clogged drain can cause a mess that brings business to a halt. No one can afford that. Surge™ pours through standing water to attack clogs at their source, allowing you to return to caring for customers, not clogs.
Industrial
Drains in industrial environments are commonly pushed to their limits and beyond. SURGE™ quickly cuts through industrial greases causing clogs and clears them in time to get the facility operating at max efficiency again.
Government
SURGE™ is powerful enough to penetrate through standing water and break up the thickest and toughest greases to clear up clogged drains.
Building Service Contractors
Building Service Contractors hand a wide variety of facility environments, which can all bring with them a wide variety of issues that can clog drains. SURGE™ has the power and versatility to cut through the multiple different causes of clogs that your staff can be faced against.
Packaging:
55 Gal. Drum; 5 Gal. Pail; 4 x 1 Gal./Case; 12 x 32 oz Qt./Case
Features & Benefits
Maximum effectiveness / Dissolves grease, dirt & other organic obstructions
Pours through standing water / Clogged drains do not need to be emptied
Safe to use / Will not harm plumbing fixtures, septic tanks, garbage disposals & porcelain
Non-acid / Promotes worker safety
Non-fuming / Versatile; can be used in any drain
Specifications
Color

Red

Odor

None.

Type

Liquid

pH

14

Specific Gravity (g/cc)

1.23 ± 0.01

Flash Point

Not available

Solubility (in water)

N/A

Shelf Life

1 year minimum in original unopened container
Safety

DANGER: CAUSES SEVERE SKIN BURNS AND EYE DAMAGE. KEEP OUT OF THE REACH OF CHILDREN
Precautionary statement:
Prevention: Do not breathe mist or vapor. Wash thoroughly after handling. Wear protective gloves/clothing and eye/face protection.
Response: If swallowed: Rinse mouth. Do NOT induce vomiting. If on skin (or hair): Take off immediately all contaminated clothing. Rinse skin with water/shower. Wash contaminated clothing before reuse. If inhaled: Remove person to fresh air and keep comfortable for breathing. Immediately call a poison center/doctor. If in eyes: Rinse cautiously with water for several minutes. Remove contact lenses, if present and easy to do. Continue rinsing.
Storage: Store locked up.
Disposal: Dispose of contents/container in accordance with local/regional/national/international regulations. 
This product is a "Hazardous Chemical" as defined by the OSHA Hazard Communication Standard, 29 CFR 1910.1200.