SANI-TURGE Non-Acid Bowl & Bathroom Disinfectant Cleaner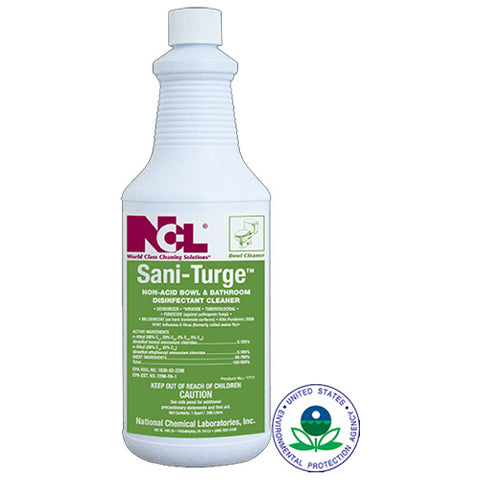 SANI-TURGE Non-Acid Bowl & Bathroom Disinfectant Cleaner
Description:
SANI-TURGE Non-Acid Bowl & Bathroom Disinfectant Cleaner
Description
This product is a non-acid bathroom cleaner, which cleans, disinfects and deodorizes in one easy step. It cleans, disinfects and deodorizes surfaces by killing many odor-causing microorganisms. Its non-abrasive formula is designed for use on hard, non-porous restroom surfaces: glazed ceramic tile, glazed porcelain, chrome, stainless steel and plastic surfaces associated with floors, walls, fixtures, toilets, urinals, sinks, shower rooms and locker rooms. This product meets AOAC Use-Dilution Test Standards for hospital disinfectants.
Not for sale in California.
Authorized USDA Product
Packaging:
1 quart container
Features & Benefits
One step bathroom disinfectant cleaner / Multiple activity reduces maintenance inventory costs
Effective against MRSA, CA-MRSA, HIV-1 (Aids virus), HBV (Hepatitis B), HCV (Hepatitis C) and Mycobacterium Tuberculosis (TB) / Reduces contamination risks
Non-acid / Will not harm personnel or ruin surfaces
Long lasting odor / Superior deodorization
Powerful disinfectant / Effective in presence of organic soil (5% blood serum)
Specifications
Active Ingredients

Dual Quaternary

Color

Blue

Odor

Floral (Puri™)

Fresh Viscosity (cps)

<10 cSt

pH

10.0

Specific Gravity (gr/cc)

1.00 ± 0.01
Safety
WARNING: CAUSES EYE IRRITATION. KEEP OUT OF THE REACH OF CHILDREN
Precautionary statement:
Prevention: Wear eye/face protection. Wash thoroughly after handling.
Response: If in eyes: Rinse cautiously with water for several minutes. Remove contact lenses, if present and easy to do. Continue rinsing. If eye irritation persists: Get medical advice/attention.
Storage: Keep container tightly closed. Store away from incompatible materials.
Disposal: Dispose of contents/container in accordance with  local/regional/national/international regulations. 
This product is a "Hazardous Chemical" as defined by the OSHA Hazard Communication Standard, 29 CFR 1910.1200. All components are on the U.S. EPA TSCA Inventory List.