TOTAL™ Non-Acid Bowl & Bathroom Cleaner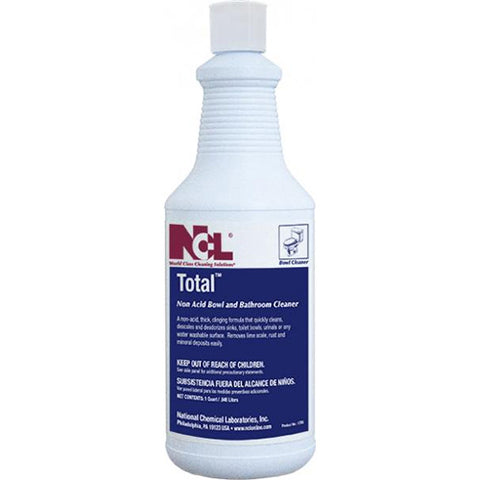 TOTAL™ Non-Acid Bowl & Bathroom Cleaner
Description:
TOTAL™ Non-Acid Bowl & Bathroom Cleaner
Description
An acid free, safe to use Bowl and Bathroom Cleaner which effectively cleans tough bowl stains and deodorizes. Removes lime scale, rust and mineral deposits. This non abrasive, mild formulation will not etch porcelain or pit fixtures. Accidental spills will not ruin carpeting or clothing. This product is a proprietary blend of materials designed to penetrate stains and soils commonly found in the bathroom environment. Formulated in a thickened fragrance base to insure good clinging and deodorizing action.
Packaging:
12 x 32 oz Qt./Case
Features & Benefits
Contains no acid or strong alkalies / Has no irritating or toxic fumes.
Safe for use on any bathroom surface / Will not damage any bathroom surface including fiberglass, acrylics, porcelains, enamels or brightwork.
Can be safely used without goggles or gloves / Safe to use without cumbersome or uncomfortable safety equipment.
Cleans and deodorizes in one easy operation / Cleans efficiently and leaves a fresh mint odor.
Thick cleaning action / High viscosity clings to vertical surfaces.
Specifications
Color

Blue

Odor

Spearmint

pH

7.3

Dilution

Ready To Use

Specific Gravity (gr/cc)

1.035 ± 0.02

Density (lbs/gal)

8.62

Viscosity (cps)

1000 cP

Free Acidity

Nil

Free Alkalinity

< 1.0%

Safe For Fiberglass

Yes

Safe For Acrylics

Yes

Safe for Ceramics

Yes

Safe for Marble

Yes

Safe For Porcelain and Enamel

Yes

Safe For Painted Surfaces

Yes

Safe For Aluminum and Glass

Yes

Toxicity

Low

Flash Point (TOC)

Not available

Cleaning Ability (compared to 9.0% HCI)

Exceeds

Deodorizing Ability

Excellent

Shelf Life

1 year minimum in original unopened container
Safety
KEEP OUT OF THE REACH OF CHILDREN
Precautionary statement:
Prevention: Obtain special instructions before use.
Response: Wash hands after handling.
Storage: Store away from incompatible materials
Disposal: Dispose of contents/container in accordance with local/regional/national/international regulations.
This product is not known to be a "Hazardous Chemical" as defined by the OSHA Hazard Communication Standard, 29 CFR 1910.1200.