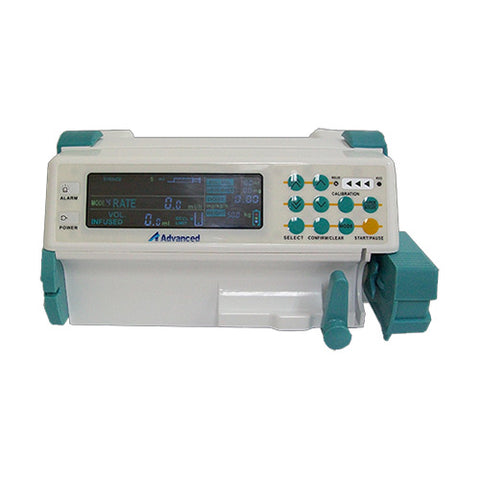 SP-100S Portable Syringe Pump
Description:
SP-100S Portable Syringe Pump
The Advanced® SP-100S is a highly accurate and smart Syringe Pump compatible most brands of standard syringes for fluids administration. The flexible design of the Advanced® SP-100S allows the unit to be portable and stackable for a wide variety of clinical applications.
Applications
The Advanced® SP-100S is used for infusion therapy for neonatal, pediatric and adult patients.
Key Features


Compatible with most standard, single use, syringe brands
Automatic calibration for syringes
Highly accurate
Color LCD Display
Three control modes: rate, time and Dose weight
Multiple alarm functions
Three levels of the occlusion pressure
Three levels of alarm volume
Automatic KVO mode
Purge and Bolus functions
Automatic detection of remained solution
Stackable to a maximum 8 channels
Built in high capacity rechargeable battery
Power Supply: AC 100~240 Volts 50/60 Hz.