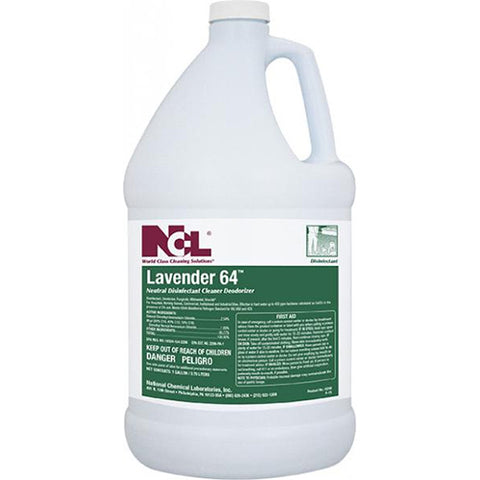 NCL Lavender 64
Description:
NCL Lavender 64
Features & Benefits
Neutral pH / Ideal for floor finish maintenance
Highly fragranced / Cosmetically appealing even at end use dilution 1:64
Biodegradable, phosphate free formulation / Environmentally responsible
Cleans, disinfects & deodorizes in one operation / Multiple activity reduces maintenance time and cost
Kills HBV, HIV-1 (AIDS virus) / Reduces danger of contamination from hard surfaces
Kills Canine Parvovirus and Rabies 

/ Must be diluted at 9 oz.  per gallon of water with a minimum ten minute contact time
Description
Lavender 64™ is for use on hard, non-porous surfaces in: Hospitals, healthcare facilities, nursing homes, veterinary clinics/offices, business and office buildings, restrooms, shower rooms, locker rooms and institutions, schools, colleges, commercial and industrial sites.
This product is a one-step hospital-use disinfectant cleaner and deodorant designed for general cleaning, disinfecting, deodorizing and controlling mold and mildew on hard, non-porous surfaces. *Kills Pandemic 2009 H1N1 influenza A virus.
This product exhibits animal premise virucidal performance. This product kills Canine Parvovirus and Rabies in 10 minutes at 9 oz. per gallon of water and 5% soil on hard, non-porous surfaces.
This product is formulated to provide effective cleaning strength that will not dull high gloss floor finishes with repeated use. This product is a no-rinse neutral pH disinfectant cleaner that disinfects, cleans and deodorizes in one labor saving step.
This product can be used on hard, non-porous surfaces such as glazed ceramic tile, glazed porcelain, chrome, stainless steel, plastic, floors, walls, fixtures, toilets, urinals, sinks.
Not for sale in California.
EPA Registered Product
---
Key Market Information
Healthcare
This is a top choice for standard healthcare facilities along with veterinarian offices, animal clinics, and kennels. When diluted at 9 oz. per gallon of water, Lavender 64™ is effective against Canine Parvovirus and Rabies. (On hard, non-porous surfaces, with a ten minute contact time)
Government
Lavender 64™ is a broad spectrum disinfectant cleaner which is effective in hard water conditions and against organic soil loads. The neutral formulation allows this product to be used on a daily basis on finished floors and other hard surfaces to extend protection against bacteria, fungi, and viruses.
Packaging:
1 gallon container
Safety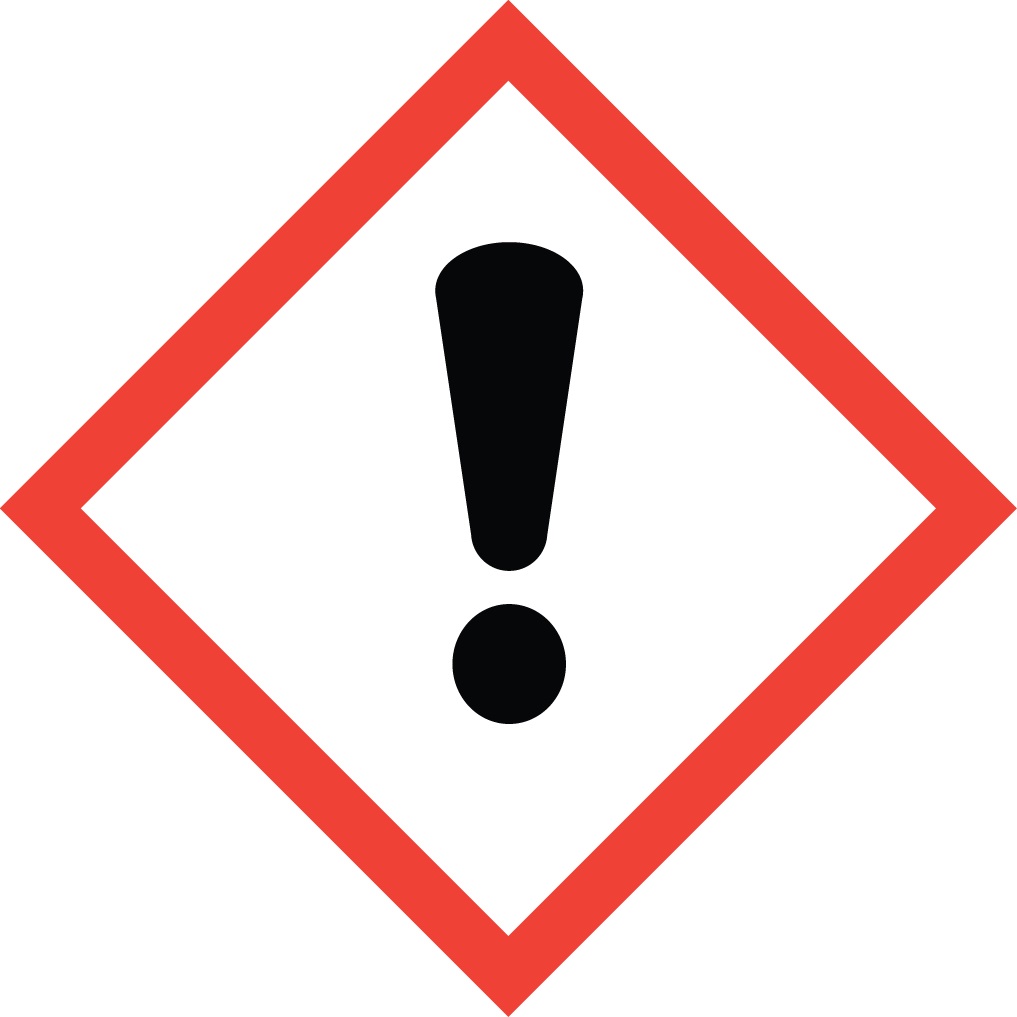 DANGER: CAUSES SKIN IRRITATION. CAUSES SERIOUS EYE DAMAGE. HARMFUL IF SWALLOWED. TOXIC TO AQUATIC LIFE. KEEP OUT OF THE REACH OF CHILDREN
Precautionary statement:
Prevention: Wash thoroughly after handling. Wear protective gloves. Wear eye/face protection.
Response: If on skin: Wash with plenty of soap and water. If in eyes: Rinse cautiously with water for several minutes. Remove contact lenses, if present and easy to do. Continue rinsing. If skin irritation occurs: Get medical advice/attention. If eye irritation persists: Get medical advice/attention. Take off contaminated clothing and wash before reuse.
Storage: Store away from incompatible materials.
Disposal: Dispose of contents/container in accordance with local/regional/national/international regulations. This product is a U.S. EPA registered pesticide.
This product is a "Hazardous Chemical" as defined by the OSHA Hazard Communication Standard, 29 CFR 1910.1200. All components are on the U.S. EPA TSCA Inventory List.
Additional safety measures:
Read the entire label and SDS before using this product, and for additional first aid measures. SDS for this product is available under the Documents tab.